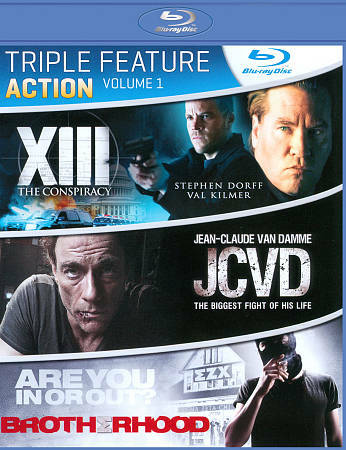 Triple Action Feature Volume 1
Blu-Ray
Format: Pre-Owned Blu-Ray
XIII The Conspiracy
The first female president of the United States, Sally Sheridan, (Mimi Kuzyk) is killed by a sniper during her speech at Veterans Day. Her assassin narrowly escapes after a shoot out involving a shadowy figure named La Mangouste (Val Kilmer) or "The Mongoose"
JCVD
When a washed-up actor returns to Belgium to find tranquillity, he finds himself involved in a bank robbery. Police believe him to be the perpetrator of the robbery, so he plays both roles of criminal to the police and hero to the hostages.
Brotherhood
A fraternity pledge finds the initiation ritual of a convenience store robbery going horribly wrong. With every move proving disastrous, he is forced to confront a new challenge and must take a stand.
DVDs & Blu-ray include disc, cover art, and case. Bonus downloadable or promotional content may have already been redeemed. Promotional items (3-D glasses, figurines, t-shirts, posters, jewelry, books or other non-media items) may not be included. Cleaning and repair was done as required.
---
We Also Recommend