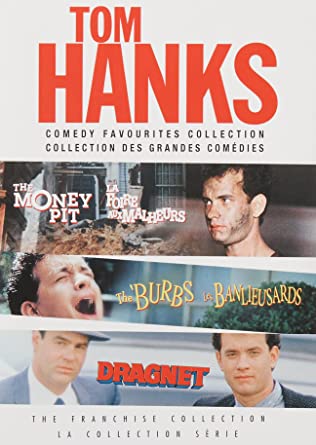 Tom Hanks Comedy Favorites Collection (The Money Pit / The Burbs / Dragnet)
DVD
Format: Pre-Owned DVD
The Money Pit - Young lovers Walter (Tom Hanks) and Anna (Shelley Long) are house-sitting the New York City apartment owned by Max (Alexander Godunov), Anna's ex-husband, who suddenly decides to toss them out. Needing a new home, they settle on buying a country estate outside the city, which is available for a suspiciously low price. It soon becomes apparent why, as doors fall off their hinges, staircases come tumbling down and a bathtub falls through the floor. The couple's relationship suffers similarly.
The 'Burbs - Settling in for some time off in his suburban home, Ray Peterson's (Tom Hanks) vacation becomes a horror when the Klopeks, a suspiciously odd family, move in down the block. Enlisting the aid of his paranoid buddy, Art (Rick Ducommun), and his militia-man neighbor, Rumsfield (Bruce Dern), Ray sends his son and wife (Carrie Fisher) away on a trip while he investigates the Klopeks. When a neighbor disappears, Ray and his cohorts risk their lives to save their cul-de-sac from the clutches of evil.
Dragnet - No-nonsense Los Angeles detective Sgt. Joe Friday (Dan Aykroyd) is partnered with the wisecracking Pep Streebeck (Tom Hanks), a hip upstart cop, and the mismatched duo is ordered to investigate a strange series of ritual killings. Though Friday and Pep do their share of quarreling, they eventually trace the clues to an ominous cult, and the officers interrupt a violent ceremony. Friday then begins a romance with near-victim Connie Swail (Alexandra Paul), but it could hinder his police work.
DVDs & Blu-ray include disc, cover art, and case. Bonus downloadable or promotional content may have already been redeemed. Promotional items (3-D glasses, figurines, t-shirts, posters, jewelry, books or other non-media items) may not be included. Cleaning and repair was done as required.
---
We Also Recommend