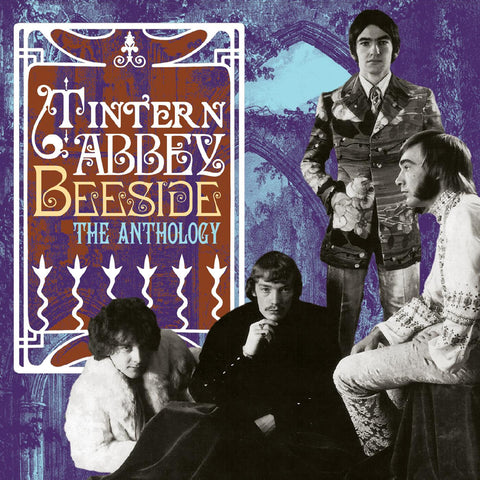 Tintern Abbey
Beeside - The Anthology (Purple)
Release Date: 08/05/2022

Format: 2 X LP
Label: Real Gone Music
Release type: Purple Vinyl LP Pressing.
The biggest British psych find of the century! Think that's hyperbole? Well, of the 24 tracks on this collection, the only two to be previously issued on vinyl, "Beeside" b/w "Vacuum Cleaner," comprise probably the rarest and most highly prized single (Deram DM 164) in '60s British rock, an original copy having sold for as much as $1600! (And with good reason…the guitar solo on "Vacuum Cleaner" set a new standard for mod-psych feedback freakout.) Indeed, that single was the only recording officially released by Tintern Abbey, and only a small handful of skeletal demos have leaked out since; yet, their legend persists some 55 years later.

Now, after two decades of planning, research, tape transfer and sound restoration, the full story of Tintern Abbey can at last be told. The 2-LP set Beeside—The Anthology unearths 24 tracks of music recorded by Tintern Abbey between the summer of 1967 (when they spent a month in a Cornwall cottage, rehearsing and taping their performances prior to their London launch) and the end of 1968. Alongside that genre-defining Deram single and those previously-leaked demos are some astonishing treasures. Among the highlights: the intended late 1967 follow-up 45 "Snowman" (a disorientating melange of sinister Mellotron, disembodied voices and backward tapes that was abandoned when original guitarist Don Smith left the group); the Arabic-sounding "My Prayer" and the SF Sorrow-anticipating "Let The Wind Blow," along with late 1968 creations like "Raspberry Ripple," "Life Goes By," and "My House," suggesting that, even at the point of their collapse, Tintern Abbey remained a vital, vibrant unit.

The package features a 4-page insert boasting a comprehensive essay with band quotes and previously unpublished photos and memorabilia tucked inside a beautiful gatefold jacket containing a purple vinyl pressing limited to 1500 copies worldwide.
Beeside (Deram Single) 3:28
Vacuum Cleaner (Deram Single) 3:06
Snowman (Master 1) 4:03
Tanya 2:59
Black Jack 3:01
Bodmin Blow 3:00
My Prayer (Early Version) 5:24
Let The Wind Blow 4:56
Stickleback 2:51
Busy Bee 3:48
Snowman (Early Acetate Version) 4:35
Beeside (Acetate Mix) 3:17
Vacuum Cleaner (Acetate Mix) 2:59
Do What You Must (Acetate Version 1) 2:40
How Do I Feel Today? (Acetate Version 1) 2:12
Hookah 2:54
People Can't See (Acetate Version 1) 2:49
Naked Song (AKA Seeds Of Discord) 2:06
Nightfall 2:48
Mrs Daisy (Polydor Studios Version) 2:36
Blue Pants 2:53
People Can't See (Acetate Version 2) 3:33
How Do I Feel Today? (Decca Acetate Version) 2:33
Magic Horsemen 2:49
My Zoo 3:20
Dream (AKA Song Of Despair) 4:18
My House 3:58
Life Goes By 5:37
My Prayer (Version 2) 4:23
Raspberry Ripple 6:27
Mrs Daisy (Version 2) 2:32
Reaching For Nothing 2:57
Witchcraft 3:04
Something 4:23
Strange Dame 3:46
Snowman (Master 2) 5:13
---
We Also Recommend