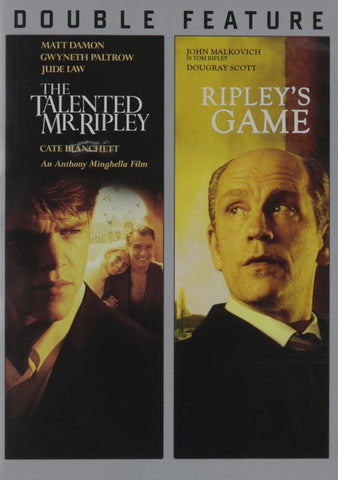 The Talented Mr.Ripley and Ripley's Game Double Feature
DVD
Format: Pre-Owned DVD
The Talented Mr. Ripley - 
In late 1950s New York, Tom Ripley, a young underachiever, is sent to Italy to retrieve Dickie Greenleaf, a rich and spoiled millionaire playboy. But when the errand fails, Ripley takes extreme measures.
Ripley's Game - 
A dying family man in need of money is persuaded to assassinate a European crime boss.
DVDs & Blu-ray include disc, cover art, and case. Bonus downloadable or promotional content may have already been redeemed. Promotional items (3-D glasses, figurines, t-shirts, posters, jewelry, books or other non-media items) may not be included. Cleaning and repair was done as required.
---
We Also Recommend