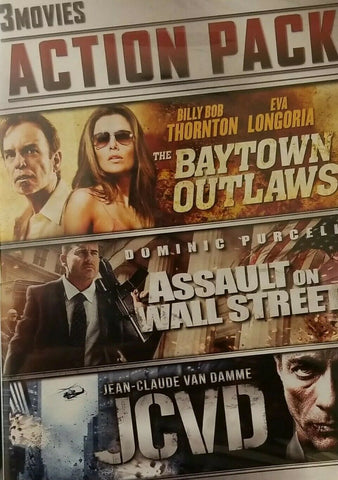 The Baytown Outlaws/Assault On Wall Street/Jean-Claude Van Damme
DVD
Release Date: 2014
Format: Pre-Owned DVD
Three infamous brothers from Alabama stir up a whole lot of trouble with crooked cops, mobsters and more when they try to accomplish a single good deed.
Jim (Dominic Purcell), an average resident of New York, goes to extreme lengths for revenge after the economy collapses.
When a washed-up actor returns to Belgium to find tranquillity, he finds himself involved in a bank robbery. Police believe him to be the perpetrator of the robbery, so he plays both roles of criminal to the police and hero to the hostages.
DVDs & Blu-ray include disc, cover art, and case. Bonus downloadable or promotional content may have already been redeemed. Promotional items (3-D glasses, figurines, t-shirts, posters, jewelry, books or other non-media items) may not be included. Cleaning and repair was done as required.
---
We Also Recommend