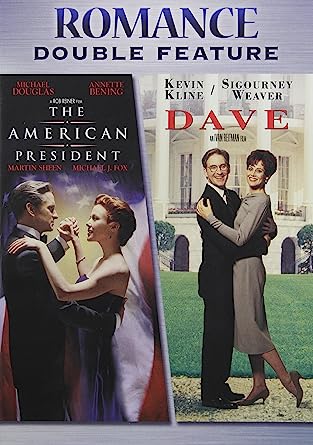 The American President / Dave
DVD
Format: Pre-Owned DVD
The American President - With the end of his first term in sight, widowed U.S. President Andrew Shepherd (Michael Douglas) knows that overwhelming public support will guarantee his re-election. But when he falls in love with lobbyist Sydney Ellen Wade (Annette Bening), Shepherd's supporters question the relationship, and his approval ratings drop. As a rival presidential candidate goes on the attack, Shepherd must choose between his political career and his love for Sydney.
DAVE - Shifty White House chief of staff Bob Alexander (Frank Langella) hatches a scheme to use a double for the president (Kevin Kline) at a public photo opportunity. Small business owner Dave Kovic (Kline) fits the bill, but after the president suffers a debilitating stroke, opportunist Alexander arranges for Dave to step in full time without even informing the First Lady (Sigourney Weaver). It doesn't take long before the press, the nation and the president's wife realize something is different.
DVDs & Blu-ray include disc, cover art, and case. Bonus downloadable or promotional content may have already been redeemed. Promotional items (3-D glasses, figurines, t-shirts, posters, jewelry, books or other non-media items) may not be included. Cleaning and repair was done as required.
---
We Also Recommend