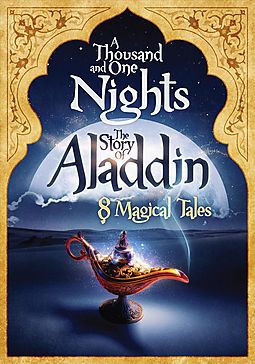 Story of Aladdin - A Thousand and One Nights - 8 Magical Tales
DVD
Format: Pre-Owned DVD
Arabian Nights - In ancient Arabia, a beautiful slave girl chooses a youth to be her new master, then she is kidnapped and they must search for each other. Stories are told within stories: love, travel and the whims of destiny.
Aladdin (Disney) - A kindhearted street urchin and a power-hungry Grand Vizier vie for a magic lamp that has the power to make their deepest wishes come true.

Thousand and One Nights - Tongue-in-cheek fantasy film set in Baghdad and loosely based on the One Thousand and One Nights medieval story.

1001 Arabian Nights - Mr. Magoo's ancestor, Abdul Aziz Magoo, is the uncle of Aladdin, who falls in love with a princess.
Magic Carpet - Using a magic flying carpet and a handful of friends, the son of a murdered Caliph must fight the usurper in order to win the throne of the Caliphate.
Aladdin - Produced by the Disney Channel, this musical version of ALADDIN is based on a popular stage production by the Prince Street Players, with music by Jim Eiler and Jeanne Bargy and book and lyrics by Eiler.
DVDs & Blu-ray include disc, cover art, and case. Bonus downloadable or promotional content may have already been redeemed. Promotional items (3-D glasses, figurines, t-shirts, posters, jewelry, books or other non-media items) may not be included. Cleaning and repair was done as required.
---
We Also Recommend