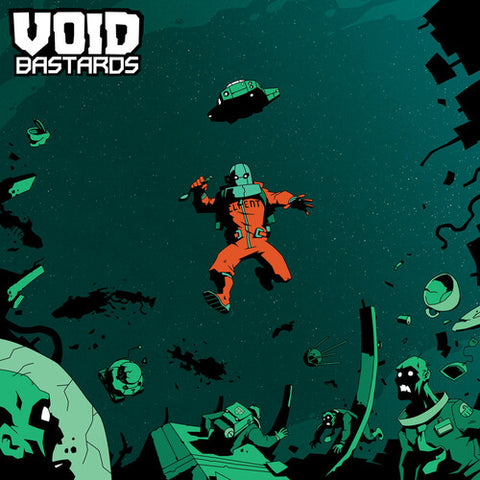 Ryan Roth
Void Bastards Soundtrack (Colored)
Release Date: 12/04/2020
Format: LP
Label: Ghost Ramp
Release type: Green with Black Splatter Vinyl LP Pressing. 
Ghost Ramp presents Ryan Roth's soundtrack to the acclaimed first-person shooter game, Void Bastards. Developed by former team members of the mega hit BIOSHOCK series, Void Bastards has developed it's own devoted following and is currently available on Switch, PS4, Xbox One and PC. The game (and it's music) features comic book aesthetics, blending off-beat humor with zany randomness and non-stop action.

Available for the first time on vinyl, Roth's score is a rush to the senses. Combining intense, dark ambience with pulsating beats, punk guitar riffs and cutting synths, Roth creates an immersive all-in-one experience. The Void Bastards OST is an essential for fans of dark electronic music and punk. Pressed on a limited edition green and black splatter colored vinyl, this release also includes a digital download card.
1 Void Bastards
2 Quantum
3 Consult the Map
4 Construction Site
5 The Sargasso Nebula
6 CNT Client Service Counter
7 Unpaid Overtime
8 Krell Steel Freight Blues
9 Cargo Brawl
10 Lux Cruisin
11 Dining Hall Jazz
12 Otori Secrets ? ? ?
13 Robopet Massacre
14 Pac Relaxing Detention
15 Corporal Punishment
16 WCG Border Security
17 Unnecessary Cavity Search
18 Xonnox Clinic Waiting Room
19 Emergency Medical Crisis
20 Batten Down the Hatches
21 Walk the Plank!
22 Krell Mart Hot Deals
---
We Also Recommend