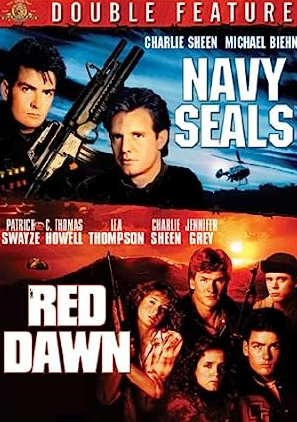 Red Dawn / Navy Seals
DVD
Format: Pre-Owned DVD
Navy Seals - Navy special operations forces go to the Middle East to free a helicopter crew taken captive by terrorist Ben Shaheed (Nicholas Kadi). After learning that Shaheed has killed a hostage and acquired missiles on the black market, Lt. James Curran (Michael Biehn) and Lt. Dale Hawkins (Charlie Sheen) consult with a reporter who is an expert on Shaheed and his motives. As Shaheed embarks on his plan to violently derail regional treaty talks, the special operations forces make their move.
Red Dawn - In an alternate 1980s, the United States stands alone as communism grows stronger. When Soviet soldiers invade a small Colorado town, brothers Jed (Patrick Swayze) and Matt Eckert (Charlie Sheen) escape with friends to the forest. With their father, Tom (Harry Dean Stanton), a prisoner of the invading army, the children decide to fight against the Soviets. As the country comes under increasing attack, the group teams up with Lt. Col. Andrew Tanner (Powers Boothe) to take back their town.
DVDs & Blu-ray include disc, cover art, and case. Bonus downloadable or promotional content may have already been redeemed. Promotional items (3-D glasses, figurines, t-shirts, posters, jewelry, books or other non-media items) may not be included. Cleaning and repair was done as required.
---
We Also Recommend