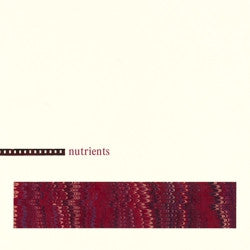 Nutrients
Nutrients (Ox Blood Red Vinyl)
Release Date: 4/12/2020
Format: LP
Label: Earth Libraries
Release type: Ox Blood Red Vinyl LP Pressing.
Nutrients is a 5-person group from Toronto that likes to play short, jangly songs. When described by others, Nutrients can be called anything from slacker rock to psychedelic pop. 

The group often elicits comparisons to Mac DeMarco for the yacht rock inspired guitar riffs, Unknown Mortal Orchestra for the disjointed pop song structures, and, every now and then, now-defunct Calgary band Women for their occasional, dissonant digressions. The new Nutrients release is their full-length, studio-recorded debut album. This collection is breezy and beachy, yet tightly-wound and unpredictable.
Limited edition pressing , Ox Blood Red Vinyl
For fans of Mac DeMarco, Unknown Mortal Orchestra, Women, The Smiths, The Feelies
Montreal-formed, Toronto-based
"You can almost feel the summer road trip vibe as the atmosphere hazily reminds you of the warm sun on your bare shoulders, even if its the dead of winter," Vinyl Chapters
"There are a million bands doing De Marco-isms at the present and most just slide past me in a sea of absolute 'meh'. However, this Toronto based 5-piece make the sort of genuine lo-fi tunes that have the warm immediacy that 70's pop used to suck you in with," JanglePopHub
"And when they talk through their 'mic' of feelz and emotions, the only thing to vibe is the nostalgic past of your younger self and all of the dreams that bloomed. They continue to tickle your fancy, with witty lyrics, tongue-in-cheek altruism, and sad but happy hymns for your forever infinite youthful self. Feel the Nutrients' vibe. It'll do your body good," Comeherefloyd
"Toronto quintet Nutrients specialise in sweet and snappy songs, borrowing from slacker rock and dream pop and some psychedelic tones too to create tracks both bright and soft," Various Small Flames
1. Hooked On This Feeling
2. Such Slime
3. Suede
4. So Long
5. Too
6. Hide & Seek
7. Always In Bloom
8. Hyperbole
9. Forget About Us
---
We Also Recommend