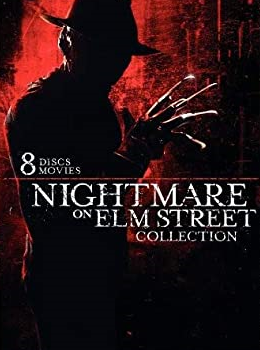 Nightmare on Elm Street Collection
DVD
Format: Pre-Owned DVD
Nightmare on Elm Street - In Wes Craven's classic slasher film, several Midwestern teenagers fall prey to Freddy Krueger (Robert Englund), a disfigured midnight mangler who preys on the teenagers in their dreams -- which, in turn, kills them in reality. After investigating the phenomenon, Nancy (Heather Langenkamp) begins to suspect that a dark secret kept by her and her friends' parents may be the key to unraveling the mystery, but can Nancy and her boyfriend Glen (Johnny Depp) solve the puzzle before it's too late?
Nightmare on Elm Street 2: Freddy's Revenge - Jesse Walsh (Mark Patton) moves with his family into the home of the lone survivor from a series of attacks by dream-stalking monster Freddy Krueger (Robert Englund). There, Jesse is bedeviled by nightmares and inexplicably violent impulses. It turns out Freddy needs a host body to carry out his gruesome vendetta against the youth of Springwood, Ohio. While Freddy gains influence, Jesse and his girlfriend, Lisa (Kim Myers), race against the clock trying to figure out what's going on.
Nightmare on Elm Street 3: The Dream Warriors - During a hallucinatory incident, young Kristen Parker (Patricia Arquette) has her wrists slashed by dream-stalking monster Freddy Krueger (Robert Englund). Her mother, mistaking the wounds for a suicide attempt, sends Kristen to a psychiatric ward, where she joins a group of similarly troubled teens. One of the doctors there is Nancy Thompson (Heather Langenkamp), who had battled Freddy some years before. Nancy senses a potential in Kristen to rid the world of Freddy once and for all.
Nightmare on Elm Street 4: The Dream Master - Child murderer Freddy Krueger returns to haunt and kill yet another group of teenagers in their dreams.
Nightmare on Elm Street 5: The Dream Child - The fifth installment of the popular franchise focuses on Alice (Lisa Wilcox), a survivor of the fourth, who believes Freddy Krueger (Robert Englund) has been eliminated for good. She optimistically hopes to start a life with fellow survivor Dan (Danny Hassel). The nightmares begin soon enough, though, and Alice learns she is pregnant. When her friends start dying, Alice suspects that Freddy is using the fetus within her as a weapon. Can she fight the demon while protecting her unborn child?
Freddy's Dead: The Final Nightmare - Murderous ghoul Freddy Krueger (Robert Englund) has slaughtered every last child in his hometown. He ventures on to a new location, scouting fresh young victims to hack up with his finger blades. He arrives in a small town in which his long-lost daughter, Maggie (Lisa Zane), works as a therapist for troubled youths. He attempts to recruit her for his dastardly pursuits, but she has other ideas. Father and daughter meet for a bloody showdown that will determine Freddy's fate once and for all.
Wes Craven's New Nightmare - Reality and fantasy meet in unsettling ways in this installment of the long-running horror series, which finds director Wes Craven and actors Heather Langenkamp and Robert Englund all portraying themselves. As Heather (Heather Langenkamp) considers making another film with Craven, her son, Dylan (Miko Hughes), falls under the spell of the iconic disfigured villain Freddy Krueger (Robert Englund). Eventually, Langenkamp must confront Freddy's demonic spirit to save the soul of Dylan.
Freddy Vs. Jason - Two horror icons face off in this supernatural movie. Disfigured serial killer Freddy Krueger (Robert Englund), who attacks his victims in their dreams, has lost much of his power since citizens of his town have become less afraid of him. Enlisting the help of fellow violent murderer Jason Voorhees (Ken Kirzinger), Freddy orchestrates a new killing spree. However, when the hockey-mask-wearing psychopath won't stop chopping up Freddy's intended victims, the two ghouls start to battle each other.
DVDs & Blu-ray include disc, cover art, and case. Bonus downloadable or promotional content may have already been redeemed. Promotional items (3-D glasses, figurines, t-shirts, posters, jewelry, books or other non-media items) may not be included. Cleaning and repair was done as required.
---
We Also Recommend