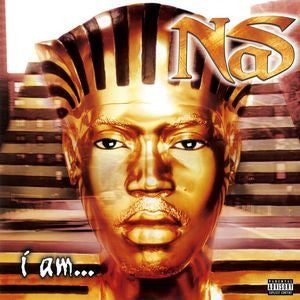 Nas
I Am...
Release Date: 05/04/2018
Format: 2 X LP
Label: Sony Legacy
Release type: Double Vinyl LP Pressing
I Am... is the third studio album by rapper Nas, released April 6, 1999 on Columbia Records. Following the commercial and critical success of 1996's It Was Written, Nas put to work on a double album that merged the styles of his first two albums and detailed entire aspects of his life. The album debuted at #1 on the Billboard 200, selling over 470, 000 copies in it's first week. I Am... would later be certified Double Platinum in the United States, making this Nas' second best-selling release behind It Was Written. This album was originally to have been a double album titled I Am... The Autobiography, however most of the original sessions were bootlegged forcing Nas to discard many songs and adjust the release.
N.Y. State of Mind, Pt. LL
Hate Me Now - Nas Feat. Puff Daddy / Carl Orff
Small World
Favor for a Favor - Nas Feat. Scarface
We Will Survive - Nas / Kenny Loggins
Ghetto Prisoners
You Won't See Me Tonight - Nas Feat. Aaliyah
I Want to Talk to You
Natures Shine
Dr. Knockboot
Life Is What You Make It - Nas Feat. DMX
Big Things
Nas Is Like
K-I-Ss-I-N-G
Money Is My Bitch
Undying Love
---
We Also Recommend