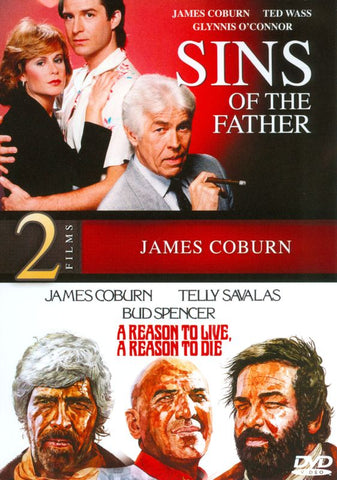 James Coburn: Sins of the Father / A Reason to Live, A Reason to Die
DVD
Format: Pre-Owned DVD
Sins of the Father - Fresh out of law school, Kevan Harris is hired by her dead father's ex-partner, Frank Murchison, and immediately 'falls into bed' with him. She then falls in love with his son, Gregory, who is fighting his father over his mother's will. Along the way, she learns about her father and his relationship with the ruthless Murchison.
A Reason to Live, A Reason to Die - After surrendering Fort Holman to the Confederacy without there being a single shot fired, Col. Pembroke (James Coburn) faces public disgrace and a potential court-martial unless he's able to recapture the fort now held by the power-mad Maj. Ward (Telly Savalas). To help him on this mission, Pembroke enlists a ragtag bunch of condemned men who are promised their freedom should they survive. Despite much internal strife, the group gradually comes together in time for the assault.
DVDs & Blu-ray include disc, cover art, and case. Bonus downloadable or promotional content may have already been redeemed. Promotional items (3-D glasses, figurines, t-shirts, posters, jewelry, books or other non-media items) may not be included. Cleaning and repair was done as required.
---
We Also Recommend