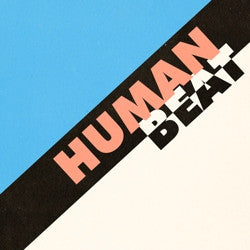 Human Beat
Human Beat
Release Date: 4/12/2020
Format: LP
Label: Earth Libraries
Release type: Vinyl LP Pressing.
Female-fronted post-punk band from Alabama. Think Gang of Four meets ESG. Toured with Man or Astro-man? and received heavy airplay on Sirius XM in 2020. Heavy international orders for this release (UK, France, Germany, and Australia).

"Human Beat screams early Post-Punk / No Wave without beating it over the head or it becoming cliche... bringing fresh blood to a sound that makes it both interesting and revitalizing." - Pop Occulture

"Hey, I've got a question for all of you. Why aren't we collectively losing our minds over this band yet?" -Anti

Interstate 65 runs 887 miles from Mobile, AL to Gary, IN, 25 miles from downtown Chicago. Human Beat booked a 700 mile segment of that highway at Birmingham in the South and Chicago in the North. When traveled, I-65 appears more or less as series of repeating lines, steady in pattern, and pointing only forward. When viewed on a map however, the illusion gives way to the reality that the road is only as straight as geography and state politics would allow. 

Human Beat shares this quality with the highway that divides it. Complete with all the trappings of boilerplate Constructivist Punk, but too loose, too sultry, too introspective, and altogether too human to pull off clinical aloofness. 

Their eight sharp shoulders cut a fine silhouette, but their straight lines are undermined by the geography of the Soul, turning what could be a collection of bloodless tunes into a living work of art. Human Beat craves fellowship and laments death, just like you.
1. Mind Body Soul
2. Contact
3. I'm Not Satisfied
4. Julia
5. Damage
6. Punctual Punks
7. Calling Destiny
8. Always
9. Out of Place
10. Wonderful Arrangement
11. Where Are They Now
---
We Also Recommend