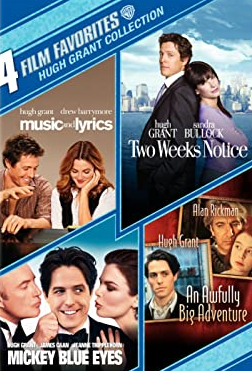 Hugh Grant (An Awfully Big Adventure, Mickey Blue Eyes, Music and Lyrics, Two Weeks Notice)
DVD
Format: Pre-Owned DVD
Music and Lyrics - Former music superstar Alex Fletcher (Hugh Grant) used to pack them in back in the 1980s, but now he is reduced to playing nostalgia tours and county fairs. He scores a chance at a major comeback when reigning pop diva Cora Corman (Haley Bennett) asks him to write a song for her, but he hasn't written anything in years and cannot compose lyrics anyway. Noticing that Sophie (Drew Barrymore), the plant lady, has a way with words, Alex proposes that he and Sophie make beautiful music together.
Two Weeks Notice - Dedicated environmental lawyer Lucy Kelson (Sandra Bullock) goes to work for billionaire George Wade (Hugh Grant) as part of a deal to preserve a community center. Indecisive and weak-willed George grows dependent on Lucy's guidance on everything from legal matters to clothing. Exasperated, Lucy gives notice and picks Harvard graduate June Carter (Alicia Witt) as her replacement. As Lucy's time at the firm nears an end, she grows jealous of June and has second thoughts about leaving George.
Mickey Blue Eyes - English art dealer Michael Felgate (Hugh Grant) is dumbfounded to learn that his girlfriend, Gina Vitale (Jeanne Tripplehorn), cannot accept his marriage proposal because her entire family is involved with the Mafia. Undeterred and in love, Michael meets Gina's father, mob boss Frank (James Caan), who immediately takes a shine to the young suitor. But before he can give his blessing, Frank has plans for Michael that may or may not end in wedding bells.
An Awfully Big Adventure - Stella Bradshaw (Georgina Cates) is a pretty acting enthusiast who aspires to become a thespian, but winds up as a gofer at a theater company in Liverpool, England. Mesmerized by the troupe's arrogant and callous director, Meredith Potter (Hugh Grant), Stella grows to realize that he isn't capable of loving her. This leads to her involvement with the much older P.L. O'Hara (Alan Rickman), a talented but troubled actor. As Stella's relationship with O'Hara continues, shocking revelations arise.
DVDs & Blu-ray include disc, cover art, and case. Bonus downloadable or promotional content may have already been redeemed. Promotional items (3-D glasses, figurines, t-shirts, posters, jewelry, books or other non-media items) may not be included. Cleaning and repair was done as required.
---
We Also Recommend