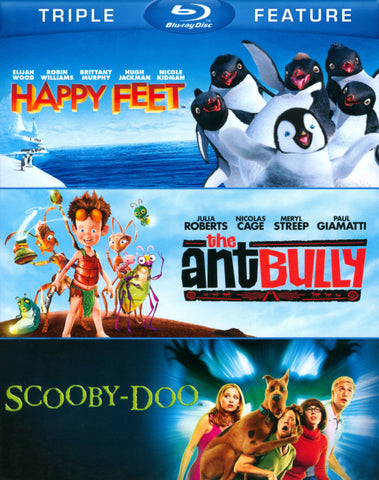 Happy Feet / The Ant Bully / Scooby-Doo
Blu-Ray
Format: Pre-Owned Blu-Ray
Happy Feet
Son of Memphis and Norma, little sweet penguin Mumble has a big problem: he can't sing a single note. In a world where everyone needs a heart song to attract a soul mate, Mumble feels he doesn't belong there. Our hero Mumble is the worst singer in the world, but he can tap dance brilliantly.

The Ant Bully
Friendless and tormented by a neighborhood bully, the new kid in town, Lucas Nickle, takes out his frustration on the innocent ant hill in his yard. But the industrious ants will only take so much. Retaliating, they shrink Lucas down to their size and give him a taste of "colony life! "Here, in a strange new world, Lucas learns about true friendship, gains a whole new perspective on life, and ultimately finds the courage to stand up for himself in this witty and heartwarming story of a young boy on a remarkable journey.
Scooby-Doo
Zoinks! Two years after a clash of egos forced Mystery Inc. to close it's doors, Scooby-Doo and his clever crime-solving cohorts Fred (FREDDIE PRINZE JR.), Daphne (SARAH MICHELLE GELLAR), Shaggy (MATTHEW LILLARD) and Velma (LINDA CARDELLINI) are individually summoned to Spooky Island to investigate a series of paranormal incidents at the ultra-hip Spring Break hot spot. Concerned that his frightfully popular resort might truly be haunted, Spooky Island owner Emile Mondavarious (ROWAN ATKINSON) tries to reunite those notoriously meddling detectives to solve the mystery before his supernatural secret scares away the college crowds. Scooby and the gang will have to overcome their personal differences and forget everything they think they know about fake ghouls and phony creatures to crack the case, save themselves and possibly...the world! Ruh-roh!
DVDs & Blu-ray include disc, cover art, and case. Bonus downloadable or promotional content may have already been redeemed. Promotional items (3-D glasses, figurines, t-shirts, posters, jewelry, books or other non-media items) may not be included. Cleaning and repair was done as required.
---
We Also Recommend