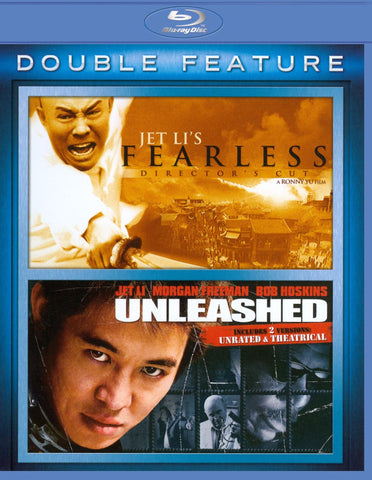 Fearless / Unleashed
Blu-Ray
Format: Pre-Owned Blu-ray
FEARLESS
After a terrible tragedy, a martial artist (Jet Li) retreats to a remote village to gain a new appreciation for the important things in life, but when he returns to the city to reconcile his past with the present, he gets caught up in a duel to the death defending China's honor.

UNLEASHED
Crime boss Bart raises orphan Danny with no knowledge of anything other than how to fight, using him as an enforcer when debts must be collected. Planning to enter Danny into a fight tournament and retire with the prize money, Bart disappears after a deadly drive-by shooting. Danny flees and takes shelter with piano tuner Sam. Away from Bart's abusive control, Danny learns how to live like a human and begins investigating his past.

DVDs & Blu-ray include disc, cover art, and case. Bonus downloadable or promotional content may have already been redeemed. Promotional items (3-D glasses, figurines, t-shirts, posters, jewelry, books or other non-media items) may not be included. Cleaning and repair was done as required.
---
We Also Recommend