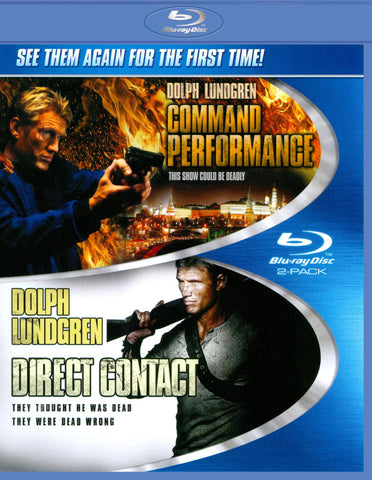 Command Performance & Direct Contact
Blu-Ray
Format: Pre-Owned Blu-ray
COMMAND PERFORMANCE: Rock n roll drummer Joe (Dolph Lundgren) and his band are about to make it big as the opening act for America s hottest pop star (Melissa Smith) in Moscow.  Fame and glory quickly turn into chaos as armed terrorists storm the arena, capturing the pop star and the guest of honor Russian President Alexander Petrov.
DIRECT CONTACT: In Russia, an imprisoned ex-U.S. Special Forces operative Mike Riggins (Dolph Lundgren) is given a chance at freedom if he can rescue an abducted American woman.  Shortly after freeing her he discovers that the kidnapping story was just a ruse and finds himself pursued by ruthless government, paramilitary and underworld organizations.
DVDs & Blu-ray include disc, cover art, and case. Bonus downloadable or promotional content may have already been redeemed. Promotional items (3-D glasses, figurines, t-shirts, posters, jewelry, books or other non-media items) may not be included. Cleaning and repair was done as required.
---
We Also Recommend