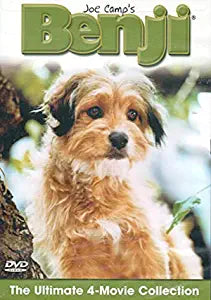 Benji: Ultimate 4-Movie Collection
DVD
Format: Pre-Owned DVD
Benji - A stray dog saves two kidnapped children.
Benji: Off the Leash - Lost and alone on the streets of a small Mississippi town, Benji struggles to save his mom from a backyard puppy mill, avoiding two dopey dogcatchers and an unwanted sidekick.
For the Love of BenjI - Benji sniffs out a bogus CIA agent in Athens, Greece.
Benji's Very Own Christmas Story - While on a publicity tour in Switzerland, Benji, Cindy Smith, and Patsy Garrett convince Kris Kringle that his place on Christmas Eve is delivering presents to all "his" families all over the world.
DVDs & Blu-ray include disc, cover art, and case. Bonus downloadable or promotional content may have already been redeemed. Promotional items (3-D glasses, figurines, t-shirts, posters, jewelry, books or other non-media items) may not be included. Cleaning and repair was done as required.
---
We Also Recommend