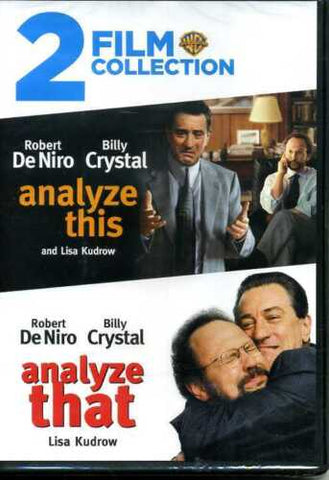 Analyze This / Analyze That
DVD
Format: Pre-Owned DVD
Analyze This - When doctors tell a mob boss (Robert De Niro) that he is suffering from anxiety attacks, he seeks the help of Ben, a therapist (Billy Crystal), who is manipulated into treating him, with hysterical results. Just as Ben and his fiancée (Lisa Kudrow) are about to wed, they are faced with a mobster who won't take no for an answer.

Analyze that - Mob boss Paul Vitti (Robert De Niro) is nearing the end of his term in Sing Sing, and the FBI agents monitoring him are baffled. Day after day they watch as New York's most notorious gangland figure walks around his cell in a semi-catatonic stupor. Is Vitti having a nervous breakdown because of recent threats on his life or is his odd behavior merely a foxy ploy to get him sprung from jail early?
DVDs & Blu-ray include disc, cover art, and case. Bonus downloadable or promotional content may have already been redeemed. Promotional items (3-D glasses, figurines, t-shirts, posters, jewelry, books or other non-media items) may not be included. Cleaning and repair was done as required.
---
We Also Recommend