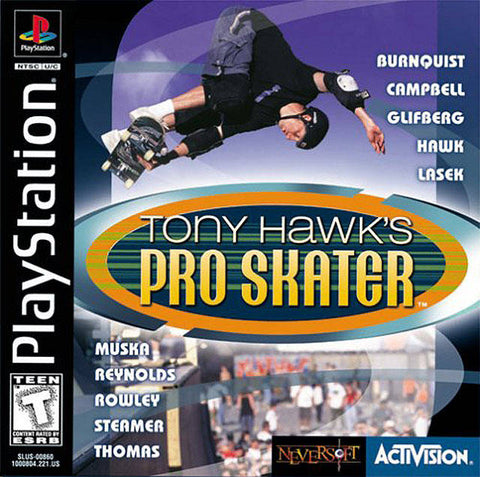 Tony Hawk's Pro Skater
Playstation
Format: Pre-Owned Game
**COMPLETE WITH ORIGINAL CASE AND BOOKLET**
Tony Hawk, famous for his 720 move (a mid-air 360-degree somersault done twice), is widely credited as being one of the best skateboarders in the world. Hawk lends his technical advice and character likeness to this nine-level title, which is among the better skating titles on the PlayStation. While it is cool to play as Hawk, would-be skate pros can also choose to play as one of eight other skaters. Each character has a different riding style and at least three unique tricks to master.
Solo players will skate to win the world championship, with over 100 moves available to score points, including slides, grinds, and landing tricks. A split screen allows players to compete against each other. During this head-to-head mode, you can score style points, race between obstacles, or play tag. If you opt for graffiti mode, both players compete against each other by "tagging" objects while performing their tricks. A replay mode is available for players to view highlights at the end of a game.
The level design is enormous, with 10 interactive courses, including skate and pool parks, half pipes, and a downtown area. Each skating environment is filled with secret places, shortcuts, and obstacles. Once you get the moves down, you can perform a trick off of just about any object that you see. Tony Hawk is not the only star in this game--the music stands strong on its own. Cool cuts come from Primus and the Dead Kennedys--which can be inspiring during the frantic onscreen action. While game control is relatively solid, there are some minor problems in tight areas.
Games include game, cover art, and case. Game data from previous use may be present, but can be overwritten or deleted. Bonus downloadable or promotional content may have already been redeemed. Cleaning and repair was done as required.
---
We Also Recommend