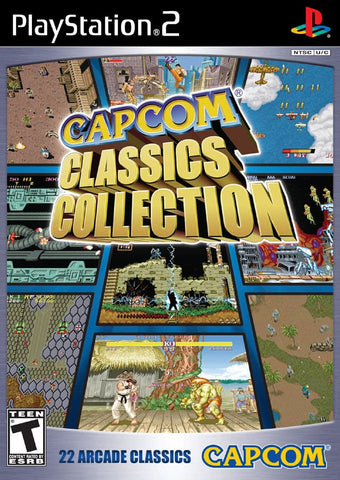 Capcom Classics Collection
Playstation 2
Format: Pre-Owned Game
**COMPLETE WITH ORIGINAL CASE AND BOOKLET**
Enjoy the arcade hits not available anywhere else! These retrospective works span nearly a decade of video-game history to take you back to the days of crowded arcades, pockets full of change, and the excitement of holding bragging rights to the high-score rankings.
The collection includes the following 22 timeless classics:
1942

1943

1943 Kai

Street Fighter II

Street Fighter II Hyper Fighting

Street Fighter II Champion Edition

Ghosts' N Goblins

Ghouls' N Ghosts

Super Ghouls' N Ghosts

Son Son

Exed Exes

Pirate Ship Higemaru

Vulgus (Capcom's first game ever)

Commando

Mercs

Gun Smoke

Section Z

Bionic Commando

Forgotten Worlds

Legendary Wings

Trojan

Final Fight Plus extra unlockable items throughout the game!
This Is A Pre-Owned Game. Games include game, cover art, and case. Game data from previous use may be present, but can be overwritten or deleted. Bonus downloadable or promotional content may have already been redeemed. Cleaning and repair was done as required.
---
We Also Recommend