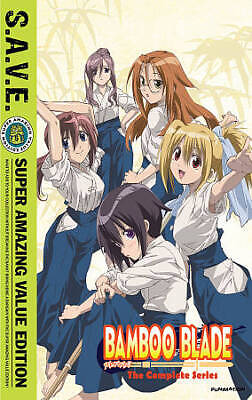 Bamboo Blade - The Complete Series S.A.V.E.
DVD
Format: Pre-Owned DVD
It didn't take long for pint-sized Tamaki's lightning reflexes to catch the eye of starving Kendo instructor Toraji. This second-rate sensei is an embarrassment to the sport, and his Kendo club is running out of members. His only hope for redemption – and a full belly – is to get Tamaki to sign-on as his star pupil. Unfortunately, this sword-wielding prodigy is a serious anime addict, so it'll be a challenge to get her to step away from the television and into the dojo. But once she feels like a part of the team, Tamaki will put down the remote and pick up her sword as Toraji turns his girls into a fearsome sisterhood of the bamboo blade!
DVDs & Blu-ray include disc, cover art, and case. Bonus downloadable or promotional content may have already been redeemed. Promotional items (3-D glasses, figurines, t-shirts, posters, jewelry, books or other non-media items) may not be included. Cleaning and repair was done as required.
---
We Also Recommend