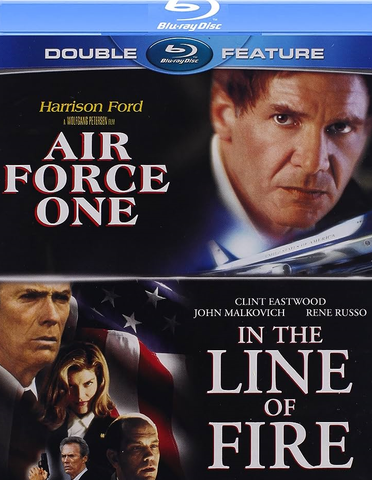 In the Line of Fire/Air Force One
Blu-Ray
Format: Pre-Owned Blu-Ray
In the Line of Fire - A Secret Service agent is taunted by calls from a would-be killer who has detailed information about the agent - including the fact that he failed to save President John F. Kennedy from assassination. The caller is revealed as an ex-CIA assassin, and the agent, who is investigating a threat to the current president, is determined not to let history repeat itself.
Air Force One - After making a speech in Moscow vowing to never negotiate with terrorists, President James Marshall (Harrison Ford) boards Air Force One with his family (Wendy Crewson, Liesel Matthews) and advisers. When a group of terrorists led by Ivan Korshunov (Gary Oldman) hijacks the flight, the President's principles are put to the test. Feigning escape, ex-solider Marshall stows away in the aircraft and must race against time to rescue his family and everyone else on board.
DVDs & Blu-ray include disc, cover art, and case. Bonus downloadable or promotional content may have already been redeemed. Promotional items (3-D glasses, figurines, t-shirts, posters, jewelry, books or other non-media items) may not be included. Cleaning and repair was done as required.
---
We Also Recommend