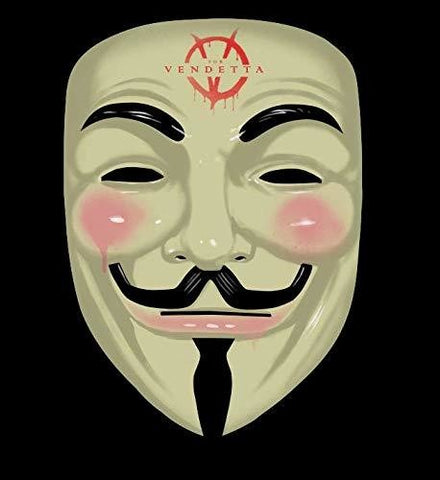 Various Artists
V For Vendetta (Original Soundtrack)
Release Date: 10/05/2018
Format: 2 X LP
Label: Varese Sarabande
Release type: Vinyl LP Pressing. 
Double vinyl LP pressing. First ever vinyl release of this soundtrack to the 2005 motion picture features tracks from Cat Power and Antony and The Johnsons as well as a score by Oscar winner, Dario Marianelli. New jacket artwork features the masked face of V, as does an actual mask inside the package! Known as a Guy Fawkes mask, it has become an iconic image for rebellion, most notably used by the online anarchist group, Anonymous. Thousands of demonstrators wear it in a pivotal scene in the film, and is a common Halloween costume. V for Vendetta is a dystopian political thriller film directed by James McTeigue and written by The Wachowski Brothers, based on the 1988 DC/Vertigo Comics limited series of the same name by Alan Moore and David Lloyd. The film is set in an alternative future where a Nordic supremacist and neo-fascist regime has subjugated the United Kingdom. Hugo Weaving portrays V, an anarchist freedom fighter who attempts to ignite a revolution through elaborate terrorist acts, and Natalie Portman plays Evey, a young, working-class woman caught up in V's mission, while Stephen Rea portrays the detective leading a desperate quest to stop V.

Remember Remember (6:42)
Cry Me a River (Performed By Julie London) (2:48)
... Governments Should Be Afraid of Their People... (3:11) C
Evey's Story (2:48)
Lust at the Abbey (3:17)
The Red Diary (7:33)
Valerie (8:48)
Evey Reborn (3:50)
I Found a Reason (Performed By Cat Power) (2:02)
England Prevails (5:45)
The Dominoes Fall (5:28)
"Bird Gerhl" (Performed By Antony and the Johnsons) (3:17)
"Knives and Bullets (And Cannons Too)" (7:33)
---
We Also Recommend