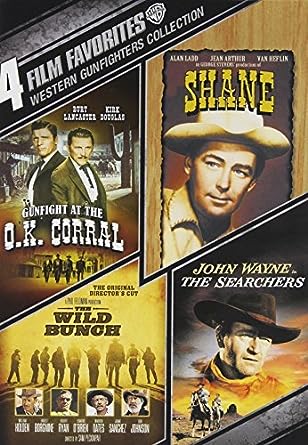 Westerns Gunfighters
DVD
Format: Pre-Owned DVD
The Wild Bunch - In this gritty Western classic, aging outlaw Pike Bishop (William Holden) prepares to retire after one final robbery. Joined by his gang, which includes Dutch Engstrom (Ernest Borgnine) and brothers Lyle (Warren Oates) and Tector Gorch (Ben Johnson), Bishop discovers the heist is a setup orchestrated in part by his old partner, Deke Thornton (Robert Ryan). As the remaining gang takes refuge in Mexican territory, Thornton trails them, resulting in fierce gunfights with plenty of casualties.
Gunfight at the O.K. Corral - Lawman Wyatt Earp (Burt Lancaster) and gunfighter John "Doc" Holliday (Kirk Douglas) find themselves together again in Tombstone, Ariz., despite the tumultuous history between them. Earp comes to Arizona on a mission to bring the Clayton clan to justice. Meanwhile, Holliday becomes incensed with the decision of Kate Fisher (Jo Van Fleet) to turn him down in favor of another gunfighter (John Ireland), ultimately leading Holliday to join Earp's side in a confrontation with the Claytons.
Shane - Enigmatic gunslinger Shane (Alan Ladd) rides into a small Wyoming town with hopes of quietly settling down as a farmhand. Taking a job on homesteader Joe Starrett's (Van Heflin) farm, Shane is drawn into a battle between the townsfolk and ruthless cattle baron Rufus Ryker (Emile Meyer). Shane's growing attraction to Starrett's wife, Marian (Jean Arthur), and his fondness for their son Joey (Brandon de Wilde), who idolizes Shane, force Shane to realize that he must thwart Ryker's plan.
The Searchers - In this revered Western, Ethan Edwards (John Wayne) returns home to Texas after the Civil War. When members of his brother's family are killed or abducted by Comanches, he vows to track down his surviving relatives and bring them home. Eventually, Edwards gets word that his niece Debbie (Natalie Wood) is alive, and, along with her adopted brother, Martin Pawley (Jeffrey Hunter), he embarks on a dangerous mission to find her, journeying deep into Comanche territory.
DVDs & Blu-ray include disc, cover art, and case. Bonus downloadable or promotional content may have already been redeemed. Promotional items (3-D glasses, figurines, t-shirts, posters, jewelry, books or other non-media items) may not be included. Cleaning and repair was done as required.
---
We Also Recommend