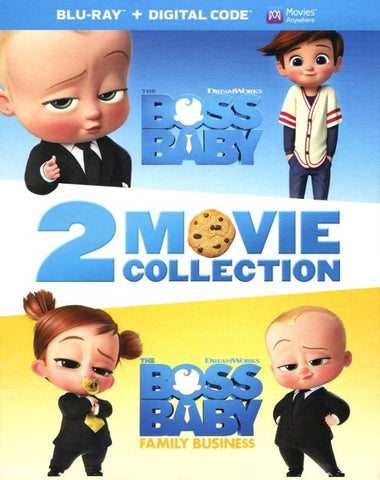 The Boss Baby 2-Movie Collection
Blu-Ray
Format: Pre-Owned Blu-ray
The Boss Baby:
DreamWorks Animation invites you to meet a most unusual child in the fun-filled, feel-good comedy, The Boss Baby! Tim Templeton suddenly finds his share of parental love plummeting when his new baby brother (Alex Baldwin) arrives—wearing a suit and toting a briefcase—and makes it clear to everyone that he's in charge. However, when Tim discovers that Boss Baby is on a secret mission, he reluctantly agrees to team up with his pint-sized sibling for an epic adventure that might just change the world!
The Boss Baby: Family Business:
He may be a big-shot moneyman now, but Ted Templeton flashes back to his Boss Baby past when he and his brother Tim renew their rivalry and make a shocking discovery! Turns out, Tim's infant daughter Tina inherited Uncle Ted's job as an undercover BabyCorp agent. She's on a secret mission to stop an evil plan to turn babies into brats, and she needs both brothers to help! Ted and Tim now have to turn back into kids for a hilariously outrageous adventure that reminds them of the true power of family!
DVDs & Blu-ray include disc, cover art, and case. Bonus downloadable or promotional content may have already been redeemed. Promotional items (3-D glasses, figurines, t-shirts, posters, jewelry, books or other non-media items) may not be included. Cleaning and repair was done as required.
---
We Also Recommend