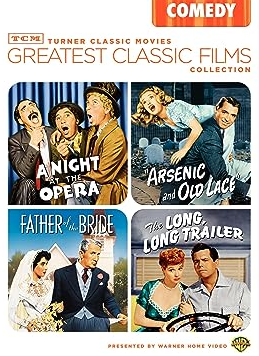 TCM Greatest Classic Films Collection: Comedy (Arsenic and Old Lace / A Night at the Opera / The Long Long Trailer / Father of the Bride 1950)
DVD
Format: Pre-Owned DVD
Arsenic and Old Lace - Writer and notorious marriage detractor Mortimer Brewster (Cary Grant) falls for girl-next-door Elaine Harper (Priscilla Lane), and they tie the knot on Halloween. When the newlyweds return to their respective family homes to deliver the news, Brewster finds a corpse hidden in a window seat. With his eccentric aunts (Josephine Hull, Jean Adair), disturbed uncle (John Alexander), and homicidal brother (Raymond Massey), he starts to realize that his family is even crazier than he thought.
A Night at the Opera -The Marx Brothers run amuck in the world of opera when Otis B. Driftwood (Groucho Marx) meets aspiring singer Ricardo (Allan Jones), who is determined to win the love of fellow performer Rosa (Kitty Carlisle). Aided by Fiorello (Chico Marx) and Tomasso (Harpo Marx), Otis attempts to unite the young couple, but faces opposition from the preening star Lassparri (Walter Woolf King), who also has his sights on Rosa. Traveling from Italy to New York, Otis and friends rally to try and win the day.
The Long, Long Trailer - Nicholas Collini (Desi Arnaz) has to travel for his job as an engineer -- so his fiancée, Tacy (Lucille Ball), suggests that rather than buy a house after their wedding, they invest in a motor home so they can see the country together. But the aggravations of life with nosy trailer park neighbors and the dangers of piloting an enormous trailer across narrow country roads soon take their toll on the happy couple, putting their young marriage in turmoil.
Father of the Bride - When beautiful Kay Banks (Elizabeth Taylor) announces her engagement to Buckley Dunstan (Don Taylor), her doting middle-class father, Stan (Spencer Tracy), must contend with a variety of problems, ranging from money issues to wedding planning difficulties. As things get hectic, Stan's wife, Ellie (Joan Bennett), tries to be the calm in the center of the storm. At the heart of the comedy, though, is Stan's emotional tie to his little girl, and his realization that she has indeed grown up.
DVDs & Blu-ray include disc, cover art, and case. Bonus downloadable or promotional content may have already been redeemed. Promotional items (3-D glasses, figurines, t-shirts, posters, jewelry, books or other non-media items) may not be included. Cleaning and repair was done as required.
---
We Also Recommend