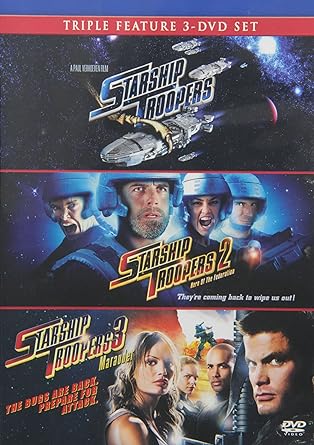 Starship Troopers / Starship Troopers 2: Hero of the Federation / Starship Troopers 3: Marauder
DVD
Format: Pre-Owned DVD
Starship Troopers - In the distant future, the Earth is at war with a race of giant alien insects. Little is known about the Bugs except that they are intent on the eradication of all human life. But there was a time before the war... A Mobile Infantry travels to distant alien planets to take the war to the Bugs. They are a ruthless enemy with only one mission: Survival of their species no matter what the cost...
Starship Troopers 2: Hero of the Federation - A squad of troopers are stranded on a planet infested by giant bugs and head for an abandoned outpost. When they arrive, they find a lone survivor there who has been locked up for killing his commanding officer. The squad's troubles only increase as they find themselves threatened both by the marauding bugs and a new group of strangers.

Starship Troopers 3: Marauder - As newly promoted Col. Johnny Rico (Casper Van Dien) returns to military service, political unrest brings the planet of Roku San to a breaking point. When Rico steps in to protect a farmer from a fellow soldier's violent outburst, he finds himself scheduled for execution. But Rico's life is spared when the Federation taps him to lead a secret mission, sending him on a collision course with the site of a new "bug" invasion -- and his old flame, Capt. Lola Beck (Jolene Blalock).
DVDs & Blu-ray include disc, cover art, and case. Bonus downloadable or promotional content may have already been redeemed. Promotional items (3-D glasses, figurines, t-shirts, posters, jewelry, books or other non-media items) may not be included. Cleaning and repair was done as required.
---
We Also Recommend