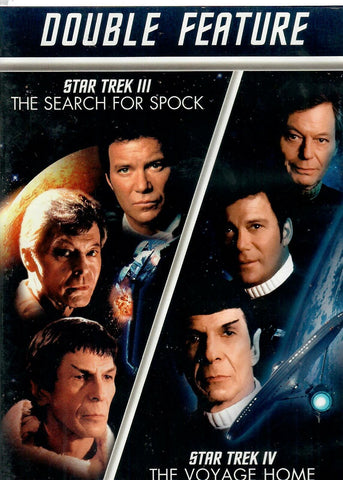 Star Trek III - The Search for Spock / Star Trek IV The Voyage Home
DVD
Format: Pre-Owned DVD
The Search for Spock - Adm. James T. Kirk (William Shatner) has defeated his archenemy but at great cost. His friend Spock has apparently been killed, the USS Enterprise is being scrapped, and starship physician Dr. Leonard "Bones" McCoy (DeForest Kelley) has taken ill. McCoy's odd behavior is evidence he's harboring Spock's katra, or animating spirit, and Kirk seeks to take the Enterprise back to the Genesis Planet and find his friend. Rebuffed, Kirk takes dramatic action that results in war with deadly Klingons.
The Voyage Home - Living in exile on the planet Vulcan, the ragtag former crew of the USS Enterprise steal a starship after receiving a planetary distress call from Earth: a space probe has entered into orbit around Earth, disabled global power on the planet and evaporated the oceans. Captain Kirk (William Shatner), Spock (Leonard Nimoy) and the rest of the officers travel back in time to retrieve now-extinct humpback whales, which Spock has deduced will communicate with the probe and send it away from Earth.
DVDs & Blu-ray include disc, cover art, and case. Bonus downloadable or promotional content may have already been redeemed. Promotional items (3-D glasses, figurines, t-shirts, posters, jewelry, books or other non-media items) may not be included. Cleaning and repair was done as required.
---
We Also Recommend