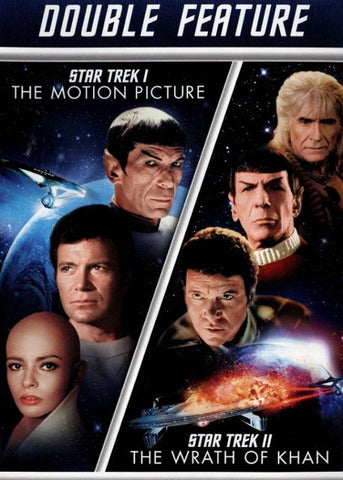 Star Trek Double Feature: Star Trek I The Motion Picture / Star Trek II The Wrath Of Khan (Widescreen)
DVD
Format: Pre-Owned DVD
The Motion Picture - The Federation calls on Adm. James T. Kirk (William Shatner) and the crew of the Starship Enterprise to contain an immense nimbused object that's on a crash course with Earth. After investigating, the crew discovers that the alien cloud harbors artificial intelligence with an ominous primary directive. Crisis strikes when a probe dispatched by the energy cloud attacks the crew, abducting navigator Lt. Ilia (Persis Khambatta). An android look-alike containing her memories shows up soon after.
The Wrath of Khan - As Adm. James T. Kirk (William Shatner) and Capt. Spock (Leonard Nimoy) monitor trainees at Starfleet Academy, another vessel from the United Federation of Planets is about to try out the planet-creating Genesis Device in a seemingly deserted portion of space. In the process, two of Kirk's officers are captured by Khan (Ricardo Montalban), an enemy Kirk thought he'd never see again. Once more, Kirk takes the Enterprise's helm, where he meets Khan's ship in an intergalactic showdown.

DVDs & Blu-ray include disc, cover art, and case. Bonus downloadable or promotional content may have already been redeemed. Promotional items (3-D glasses, figurines, t-shirts, posters, jewelry, books or other non-media items) may not be included. Cleaning and repair was done as required.
---
We Also Recommend