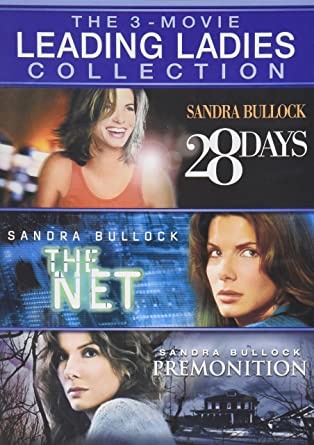 Sandra Bullock Collection (The Net, 28 Days, and Premonition)
DVD
Format: Pre-Owned DVD
The Net - Computer programmer Angela Bennett (Sandra Bullock) starts a new freelance gig and, strangely, all her colleagues start dying. Does it have something to do with the mysterious disc she was given? Her suspicions are raised when, during a trip to Mexico, she's seduced by a handsome stranger (Jeremy Northam) intent on locating the same disc. Soon Angela is tangled up in a far-reaching conspiracy that leads to her identity being erased. Can she stop the same thing from happening to her life?
28 Days - A hard-drinking New York journalist (Sandra Bullock) takes her reputation as the life and soul of the party too far when she knocks over her sister's wedding cake and crashes the bridal limousine. When a court orders her into rehab for a month, she initially refuses, but eventually she begins to take her substance abuse seriously.
Premonition - Linda Hanson (Sandra Bullock) has an idyllic life, until one day she receives word that her husband (Julian McMahon) has died in an auto accident. However, when Linda wakes up the next morning and finds Jim beside her, she assumes she has just had an unusually vivid dream. Soon she finds out that what she experienced was not a dream, and she must battle time and destiny to save her family.
DVDs & Blu-ray include disc, cover art, and case. Bonus downloadable or promotional content may have already been redeemed. Promotional items (3-D glasses, figurines, t-shirts, posters, jewelry, books or other non-media items) may not be included. Cleaning and repair was done as required.
---
We Also Recommend