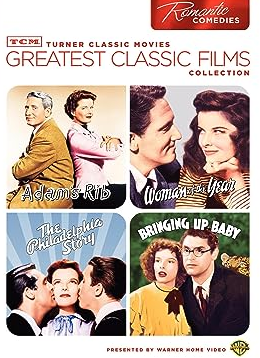 Romantic Comedies (Adam's Rib / Woman of the Year / The Philadelphia Story / Bringing Up Baby)
DVD
Format: Pre-Owned DVD
The Philadelphia Story - This classic romantic comedy focuses on Tracy Lord (Katharine Hepburn), a Philadelphia socialite who has split from her husband, C.K. Dexter Haven (Cary Grant), due both to his drinking and to her overly demanding nature. As Tracy prepares to wed the wealthy George Kittredge (John Howard), she crosses paths with both Dexter and prying reporter Macaulay Connor (James Stewart). Unclear about her feelings for all three men, Tracy must decide whom she truly loves.
Bringing Up Baby - Harried paleontologist David Huxley (Cary Grant) has to make a good impression on society matron Mrs. Random (May Robson), who is considering donating one million dollars to his museum. On the day before his wedding, Huxley meets Mrs. Random's high-spirited young niece, Susan Vance (Katharine Hepburn), a madcap adventuress who immediately falls for the straitlaced scientist. The ever-growing chaos -- including a missing dinosaur bone and a pet leopard -- threatens to swallow him whole.
Adam's Rib - A courtroom rivalry finds its way into the household when prosecuting lawyer Adam Bonner (Spencer Tracy) faces off against his wife, Amanda (Katharine Hepburn), who happens to be a defense attorney. Working on opposite sides of a lawsuit where a woman (Judy Holliday) has shot her cheating husband (Tom Ewell), Adam and Amanda are both determined to win the case, and their home becomes the setting for comical showdowns, with neither spouse willing to relent.
Woman of the Year - Tess Harding (Katharine Hepburn) is a progressively-minded political journalist. Sam Craig (Spencer Tracy) is a sports writer with very traditional values. The only thing the two have in common is that they both work for the same New York City newspaper. Despite an initial and mutual dislike, the two eventually fall in love and get married. When Tess wins the Woman of the Year award, traditional gender roles become flipped and their relationship suffers as a result.
DVDs & Blu-ray include disc, cover art, and case. Bonus downloadable or promotional content may have already been redeemed. Promotional items (3-D glasses, figurines, t-shirts, posters, jewelry, books or other non-media items) may not be included. Cleaning and repair was done as required.
---
We Also Recommend