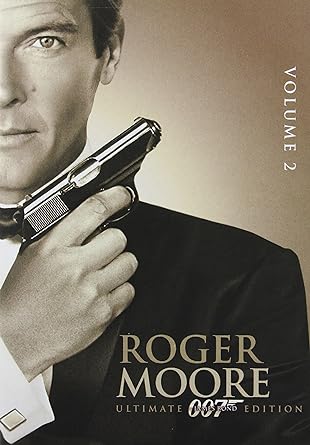 Roger Moore - 007 James Bond Edition, Vol. 2
DVD
Format: Pre-Owned DVD
Moonraker - Agent 007 (Roger Moore) blasts into orbit in this action-packed adventure that takes him to Venice, Rio De Janeiro and outer space. When Bond investigates the hijacking of an American space shuttle, he and beautiful CIA agent Holly Goodhead (Lois Chiles) are soon locked in a life-or-death struggle against Hugo Drax (Michael Lonsdale), a power-mad industrialist whose horrific scheme may destroy all human life on earth!
For Your Eyes Only - British agent James Bond is dispatched to recover a strategic communications device before it finds its way into the hands of the Russians. When the secret device that controls Britain's Polaris submarines goes missing after the spy ship carrying it sinks, 007 joins forces with a vengeful woman and a wealthy hero of the Greek resistance movement to find the equipment.
Octopussy - James Bond is assigned to solve the murder of agent 009, killed in East Germany clutching a fake Fabergé egg. The trail leads to India, where an enigmatic woman operates a smuggling ring under the cover of a travelling circus. However, her real motives prove to be far more sinister, and Bond uncovers a plot to blow up a US Air Force base in West Germany.
DVDs & Blu-ray include disc, cover art, and case. Bonus downloadable or promotional content may have already been redeemed. Promotional items (3-D glasses, figurines, t-shirts, posters, jewelry, books or other non-media items) may not be included. Cleaning and repair was done as required.
---
We Also Recommend