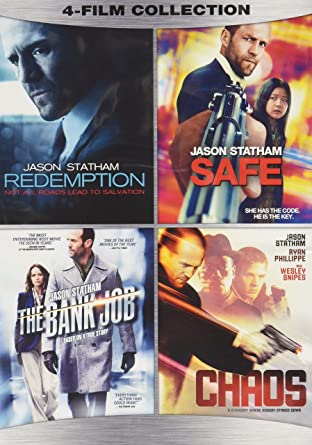 Redemption / Safe / The Bank Job / Chaos
DVD
Format: Pre-Owned DVD
Redemption - A damaged ex-special forces soldier navigating London's criminal underworld seizes an opportunity to assume another man's identity.
Safe - Mei, a young girl whose memory holds a priceless numerical code, finds herself pursued by the Triads, the Russian mob, and corrupt NYC cops. Coming to her aid is an ex-cage fighter whose life was destroyed by the gangsters on Mei's trail.
Bank Job - Martine offers Terry a lead on a foolproof bank hit on London's Baker Street. She targets a roomful of safe deposit boxes worth millions in cash and jewelry along with a treasure trove of dirty secrets.
Chaos - Two cops, a rookie and a grizzled vet, pursue an accomplished bank robber.
DVDs & Blu-ray include disc, cover art, and case. Bonus downloadable or promotional content may have already been redeemed. Promotional items (3-D glasses, figurines, t-shirts, posters, jewelry, books or other non-media items) may not be included. Cleaning and repair was done as required.
---
We Also Recommend