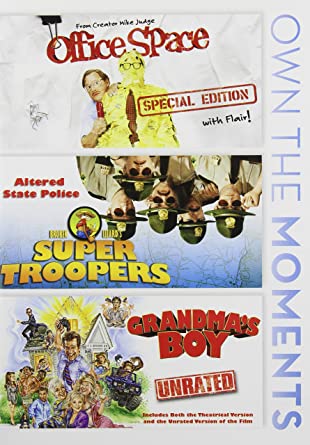 Office Space / Super Troopers / Grandma's Boy
DVD
Format: Pre-Owned DVD
Office Space - Three company workers who hate their jobs decide to rebel against their greedy boss.
Super Troopers - Five Vermont state troopers, avid pranksters with a knack for screwing up, try to save their jobs and out-do the local police department by solving a crime.
Grandma's Boy - A thirty-five-year-old video game tester has to move in with his grandma and her two old lady roommates.
DVDs & Blu-ray include disc, cover art, and case. Bonus downloadable or promotional content may have already been redeemed. Promotional items (3-D glasses, figurines, t-shirts, posters, jewelry, books or other non-media items) may not be included. Cleaning and repair was done as required.
---
We Also Recommend