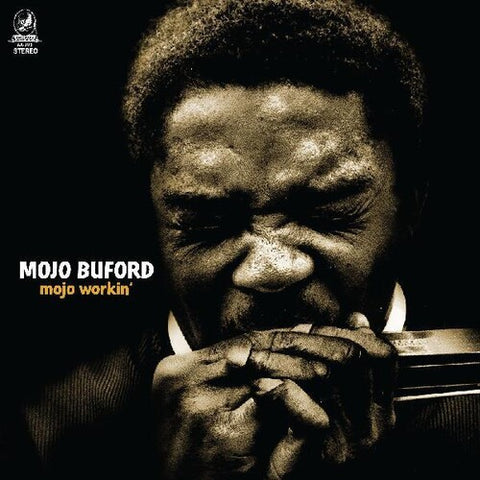 Mojo Buford
Mojo Workin'
Release Date: 10/09/2020
Format: LP
Label: Americana Anthropology
Release type: Vinyl LP Pressing.
A LOST STUDIO RECORDING FROM A LEGENDARY BLUES MAN!

Bluesman George "Mojo" Buford started blowing the harmonica in his teens, eventually linking up to tour with fellow Mississippian Muddy Waters. Adopting his nickname from ravenous crowds requesting Muddy's "Got My Mojo Working," Buford gained the attention of some gifted young rockers (including lead guitarist of The Trashmen!), who steered him into the studio for three smokin' '69 sessions–the results of which we're finally hearing for the first time!

The songs here mostly came out of Buford's live repertoire at the time, including (of course) "Got My Mojo Working" as well as "Love Without Jealousy," a song Buford co-wrote that would appear on Waters' 1973 album Mud In Your Ear. Several others in the sessions were Buford originals: the 12-bar nugget "Deep Sea Diver" and the funkier workouts "Lost Love" and "Stingin' Bee Blues." He also covered his pal Otis Spann's "Blues Is a Botheration" and Sonny Boy Williamson II's "Help Me," co-written by Willie Dixon.

In a roundabout, six-degrees-of-Minnesota-music way, it was the Trashmen connection that finally earned the rest of us the chance to hear these recordings. While scouring his vaults compiling the comprehensive four-CD Trashmen box set, Bird Call! (Sundazed) Mike Jann stumbled upon these reels. You could say it was ultimately him seeking "Surfin' Birds" that led him instead to Mojo Workin', and now we all get to enjoy it.
---
We Also Recommend