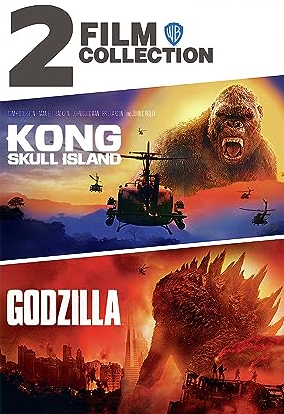 Kong: Skull Island / Godzilla (2014)
DVD
Format: Pre-Owned DVD
Godzilla - Ford Brody (Aaron Taylor-Johnson), a Navy bomb expert, has just reunited with his family in San Francisco when he is forced to go to Japan to help his estranged father, Joe (Bryan Cranston). Soon, both men are swept up in an escalating crisis when Godzilla, King of the Monsters, arises from the sea to combat malevolent adversaries that threaten the survival of humanity. The creatures leave colossal destruction in their wake, as they make their way toward their final battleground: San Francisco.
Kong: Skull Island - Scientists (John Goodman), soldiers (Tom Hiddelston) and adventurers (Brie Larson) unite to explore a mythical, uncharted island in the Pacific Ocean. Cut off from everything they know, they venture into the domain of the mighty Kong, igniting the ultimate battle between man and nature. As their mission of discovery soon becomes one of survival, they must fight to escape from a primal world where humanity does not belong.
DVDs & Blu-ray include disc, cover art, and case. Bonus downloadable or promotional content may have already been redeemed. Promotional items (3-D glasses, figurines, t-shirts, posters, jewelry, books or other non-media items) may not be included. Cleaning and repair was done as required.
---
We Also Recommend