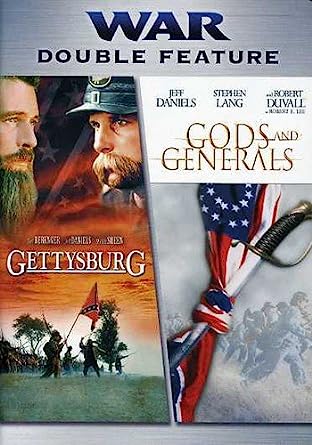 Gettysburg / Gods and Generals
DVD
Format: Pre-Owned DVD
Gettysburg - This war drama depicts one of the biggest events of the American Civil War, the Battle of Gettysburg. The massive three-day conflict begins as Confederate General Robert E. Lee (Martin Sheen) presses his troops north into Pennsylvania, leading to confrontations with Union forces, including the regiment of Colonel Joshua Chamberlain (Jeff Daniels). As the battle rages on and casualties mount, the film follows both the front lines and the strategic maneuvering behind the scenes.
Gods and Generals - Epic prequel to `Gettysburg' examining the early days of the American Civil War through the experiences of three historical figures. Colonel Joshua Lawrence Chamberlain (Jeff Daniels) must leave behind his quiet academic life, General Thomas Stonewall Jackson (Stephen Lang) must contend with his great religious faith, and General Robert Lee is forced to choose between his loyalty to the USA and his love of the Southern states.
DVDs & Blu-ray include disc, cover art, and case. Bonus downloadable or promotional content may have already been redeemed. Promotional items (3-D glasses, figurines, t-shirts, posters, jewelry, books or other non-media items) may not be included. Cleaning and repair was done as required.
---
We Also Recommend