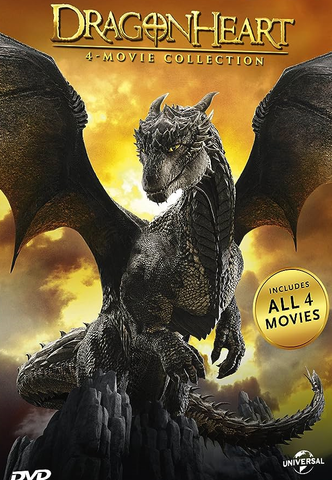 Dragonheart: 4-Movie Collection
DVD
Format: Pre-Owned DVD
Dragonheart - Disillusioned knight Bowen (Dennis Quaid) befriends Draco (Sean Connery), the last of the dragons, and the two begin scamming village folk as Bowen repeatedly "kills" Draco for money. Bowen soon learns that Draco is the same dragon who once saved his former student, now King Einon (David Thewlis), from death by giving him a piece of his heart. Einon is now a merciless tyrant, and Bowen is compelled to stop him -- but the bond between king and dragon means if one dies, the other does as well.
Dragonheart: A New Beginning - A stableboy befriends a young dragon hidden in the basement of the monastery where he works. When they go out into the world, an evil adviser to the King uses the boy's desire to be a knight to get close to the dragon.
Dragonheart 3: The Sorcerer's Curse - Drago (Ben Kingsley) the dragon and a young knight (Julian Morris) whose life he saved join forces to end an evil wizard's reign of terror.
Dragonheart: Battle for the Heartfire - Drago (Patrick Stewart), a magnificent dragon, bonds with King Gareth. When the king dies, his potential heirs, twin grandchildren who possess the dragon's unique strengths, use their inherited powers against each other to vie for the throne. When Drago's source of power - known as the Heartfire - is stolen, more than the throne is at stake, and the siblings must end their rivalry with swords and sorcery, or the kingdom may fall.
DVDs & Blu-ray include disc, cover art, and case. Bonus downloadable or promotional content may have already been redeemed. Promotional items (3-D glasses, figurines, t-shirts, posters, jewelry, books or other non-media items) may not be included. Cleaning and repair was done as required.
---
We Also Recommend