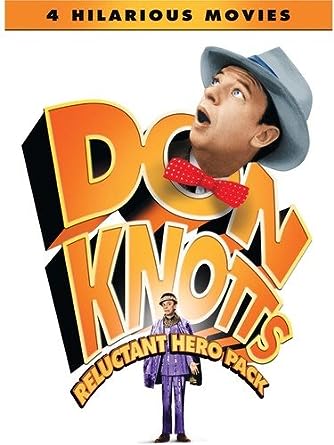 Don Knotts: Reluctant Hero - The ghost and Mr. Chicken / The reluctant astronaut / The shakiest gun in the West / The love God?
DVD
Format: Pre-Owned DVD
The Ghost and Mr. Chicken  - Looking to score a break as a newspaper reporter and impress beautiful Alma Parker (Joan Staley), milquetoast typesetter Luther Heggs (Don Knotts) pitches a story about his small town's haunted house. When his editor (Dick Sargent) insists Luther spend a night alone in the spooky mansion, where a grisly murder-suicide had taken place decades earlier, the timid reporter learns that the house contains a supernatural resident who doesn't like visitors.

The Reluctant Astronaut - Roy (Don Knotts), a perpetually terrified 35-year-old man-child, still lives with his parents. He plays an astronaut at a local fairground, but his father (Arthur O'Connell) wants him to be a real astronaut and lands him a place at NASA. On arrival, Roy discovers he's just a janitor, but he keeps up the charade, which eventually gets him fired. When NASA wants to send someone unqualified into orbit to one-up the Russians, however, they send Roy into space, where things invariably go wrong.
The Shakiest Gun in the West - in 1870, bumbling Philadelphia-based dentist Jesse W. Haywood (Don Knotts) travels west to set up a practice in the frontier. There, he meets Penelope Cushings (Barbara Rhoades), a pretty bandit who has agreed to investigate an Indian gun-smuggling operation in exchange for her freedom. When their wagon train is attacked, Penelope shoots several Indians dead. However, Jesse falsely assumes it was his errant gunshots that saved the wagon, and soon earns a reputation as a great gunslinger.
The Love God? - Ornithologist Abner Audubon Peacock (Don Knotts) sells his bird-watching journal to slick charlatan Osborn Tremain (Edmond O'Brien), who promptly converts it into a girlie magazine. When an obscenity lawsuit transforms the virginal Peacock into an unlikely hero to the hip and liberated, Tremain and co-editor Lisa LaMonica (Anne Francis) try to capitalize on Peacock's newfound fame as a libertine, to the dismay of his equally chaste longtime sweetheart, Rose Ellen (Maggie Peterson).
DVDs & Blu-ray include disc, cover art, and case. Bonus downloadable or promotional content may have already been redeemed. Promotional items (3-D glasses, figurines, t-shirts, posters, jewelry, books or other non-media items) may not be included. Cleaning and repair was done as required.
---
We Also Recommend