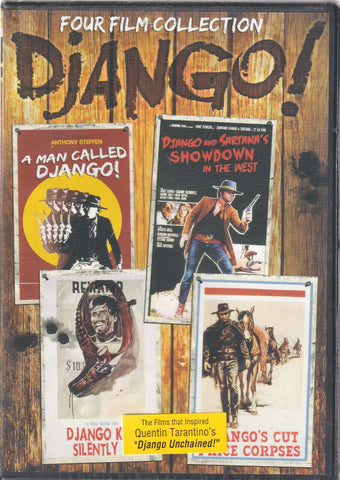 Django Four Film Collection
DVD
Format: Pre-Owned DVD
A Man Called Django - A cowboy runs into arms dealers while searching for the men who raped and killed his wife.
Django Kills Silently - Django agrees to escort a shipment through a bandit's territory.
Django and Sartana's Showdown in the West - Django (Chet Davis) and Sartana (Hunt Powers) form an alliance to rescue a rancher's daughter and kill her kidnapper before he kills them.
Django's Cut Price Corpses - A bank agent (Gengher Gatti) and a bandit (John Desmont) help Django (Jeff Cameron) track down the bank robbers who kidnapped his fiancee.
DVDs & Blu-ray include disc, cover art, and case. Bonus downloadable or promotional content may have already been redeemed. Promotional items (3-D glasses, figurines, t-shirts, posters, jewelry, books or other non-media items) may not be included. Cleaning and repair was done as required.
---
We Also Recommend