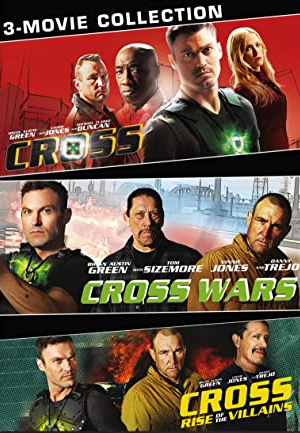 Cross (2011) Cross Wars / Cross: Rise of the Villains
DVD
Format: Pre-Owned DVD
Cross - Given incredible power by an ancient Celtic Cross. Callan continues to fight evil... Now, joined by a team of weapons experts, Callan battles an unstoppable empire in Los Angeles.
Cross Wars - Callan returns to the scene with his team in order to oppose the return of the evil Gunnar; his path crosses again with Frank Nitti detective under the city of Los Angeles.
Cross: Rise of the Villains - Armed with an explosive powerful ancient cross amulet, Callan (Brian Austin Green) is back with his extraordinary team of weapons experts to defend Los Angeles from its biggest threat yet-super villains Muerte (Danny Trejo) and Drago (Manu Intiraymi). Callan will have to join forces with his once mortal enemy, Gunnar (Vinnie Jones), to try to save the city. Tom Sizemore returns as Detective Nitti and Lou Ferrigno, DB Sweeney, Jeremy London and Eric Roberts star as The Contractors.
DVDs & Blu-ray include disc, cover art, and case. Bonus downloadable or promotional content may have already been redeemed. Promotional items (3-D glasses, figurines, t-shirts, posters, jewelry, books or other non-media items) may not be included. Cleaning and repair was done as required.
---
We Also Recommend