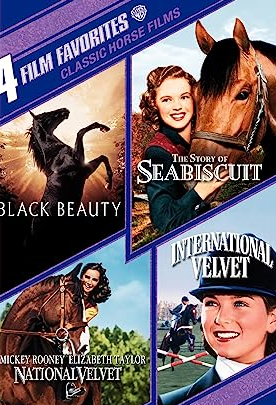 Classic Horse Films (Black Beauty, National Velvet, International Velvet, The Story of Seabiscuit
DVD
Format: Pre-Owned DVD
Black Beauty - Alec (Kelly Reno) encounters a magnificent black Arabian horse while traveling aboard a steamship around the coast of North Africa with his father (Hoyt Axton). When a disaster destroys the ship, Alec frees the horse and escapes with it to a nearby island, where they form a close bond. When Alec is rescued, he insists the horse be rescued too, and both return to America. There, Alec and former jockey Henry (Mickey Rooney) work to train the horse, which Alec names "The Black," for a race.
The Story of Seabiscuit - Margaret (Shirley Temple) and her uncle, Shawn (Barry Fitzgerald), move from Ireland to the United States to distance themselves from the death of Margaret's brother, a jockey. Shawn, a horse trainer, finds Seabiscuit, a horse he insists will be a champion racer. Margaret falls for jockey Ted Knowles (Lon McCallister), whose job reminds Margaret of her deceased sibling. Ted wants to get married, but she refuses unless he gives up his career -- and the chance to ride Seabiscuit to glory.
National Velvet - When Velvet Brown (Elizabeth Taylor), an equine-loving 12-year-old living in rural Sussex, becomes the owner of a rambunctious horse, she decides to train it for England's Grand National race. Aided by former jockey Mi Taylor (Mickey Rooney) and encouraged by her family, the determined Velvet gets her steed, affectionately called "The Pie," ready for the big day. However, a last-minute problem arises with the jockey and an unexpected rider must step in as a replacement.
International Velvet - This sequel to "National Velvet" follows Sarah Brown (Tatum O'Neal), a young girl who is sent to England after her parents die in a car crash. There, she lives with her aunt Velvet (Nanette Newman) who introduces Sarah to the world of equestrian competition and gives her the last foal of her own prize horse, The Pie. Under the watchful eye of her aunt and horse trainer Capt. Johnson (Anthony Hopkins), Sarah develops into a talented rider who might have a shot at the Olympics.
DVDs & Blu-ray include disc, cover art, and case. Bonus downloadable or promotional content may have already been redeemed. Promotional items (3-D glasses, figurines, t-shirts, posters, jewelry, books or other non-media items) may not be included. Cleaning and repair was done as required.
---
We Also Recommend