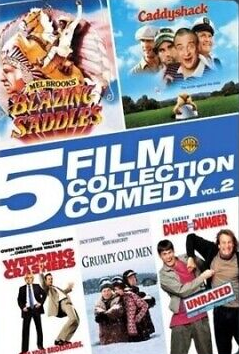 5 Film Comdey Collection Vol. 2
DVD
Format: Pre-Owned DVD
Blazing Saddles - In this satirical take on Westerns, crafty railroad worker Bart (Cleavon Little) becomes the first black sheriff of Rock Ridge, a frontier town about to be destroyed in order to make way for a new railroad. Initially, the people of Rock Ridge harbor a racial bias toward their new leader. However, they warm to him after realizing that Bart and his perpetually drunk gunfighter friend (Gene Wilder) are the only defense against a wave of thugs sent to rid the town of its population.
Wedding Crashers - Jeremy (Vince Vaughn) and John (Owen Wilson) are divorce mediators who spend their free time crashing wedding receptions. For the irrepressible duo, there are few better ways to drink for free and bed vulnerable women. So when Secretary of the Treasury William Cleary (Christopher Walken) announces the wedding of his daughter, the pair make it their mission to crash the high-profile event. But their game hits a bump in the road when John locks eyes with bridesmaid Claire (Rachel McAdams).
Caddyshack - Danny Noonan (Michael O'Keefe), a teen down on his luck, works as a caddy at the snob-infested Bushwood Country Club to raise money for his college education. In an attempt to gain votes for a college scholarship reserved for caddies, Noonan volunteers to caddy for a prominent and influential club member (Ted Knight). Meanwhile, Danny struggles to prepare for the high pressure Caddy Day golf tournament while absorbing New Age advice from wealthy golf guru Ty Webb (Chevy Chase).
Dumb and Dumber - Imbecilic best friends Lloyd Christmas (Jim Carrey) and Harry Dunne (Jeff Daniels) stumble across a suitcase full of money left behind in Harry's car by Mary Swanson (Lauren Holly), who was on her way to the airport. The pair decide to go to Aspen, Colo., to return the money, unaware that it is connected to a kidnapping. As Harry and Lloyd -- who has fallen in love with Mary -- are pursued across the country by hired killers and police, they find both their friendship and their brains tested.
Frumpy Old Men - John Gustafson (Jack Lemmon) and Max Goldman (Walter Matthau) are two curmudgeonly neighbors who have been at each other's throats for years. The rivalry of the former friends intensifies when Ariel (Ann-Margret) comes along and provides a love interest for both of them. When Max finds out that John is experiencing family troubles and financial ruin, however, he steps in to help. Their bond is further cemented when John has a health scare and Max makes the ultimate sacrifice for his friend.
DVDs & Blu-ray include disc, cover art, and case. Bonus downloadable or promotional content may have already been redeemed. Promotional items (3-D glasses, figurines, t-shirts, posters, jewelry, books or other non-media items) may not be included. Cleaning and repair was done as required.
---
We Also Recommend