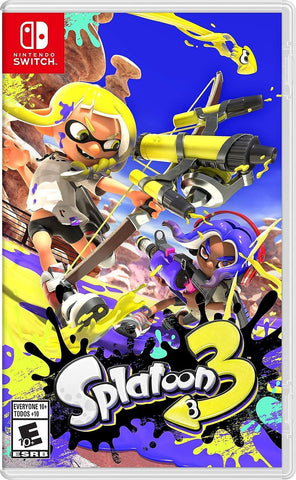 Splatoon 3
Nintendo Switch
Format: Pre-Owned Game
Enter 4-on-4* ink-slinging battles in this colorful action shooter packed with style and attitude. As a squid-like Inkling, quickly cover your surroundings (and opponents) in ink with wild weaponry and swim through your own color to sneak and splat. Dive into the fresh fun with family and friends and make waves as a team.
Keep it current with rotating items, seasonal catalogs, and special events. Timed events like Splatfests bring different types of chaotic competition and content updates add even more weapons and stages. Earn points to get in-game items from season-specific catalogs to dress up your own personal locker and show your style.
Use inky new abilities and weapons to compete, cooperate, or clear up the mystery of the Fuzzy Ooze. Dynamic new moves like the Squid Surge and Squid Roll will help you and your fellow Inklings cover more ground and avoid enemy ink. Take aim with the bow-like Stringer and get slash happy with sword-like Splatanas—these new weapon types join an arsenal of fresh special weapons and sub weapons, too.
This Is A Pre-Owned Game. Games include game, cover art, and case. Game data from previous use may be present, but can be overwritten or deleted. Bonus downloadable or promotional content may have already been redeemed. Cleaning and repair was done as required
---
We Also Recommend