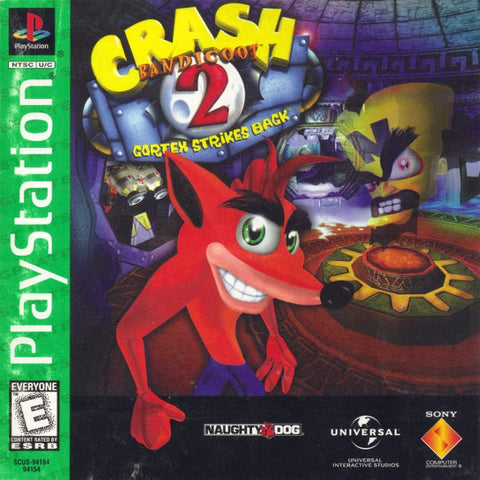 Crash Bandicoot 2 Cortex Strikes Back [Greatest Hits]
Playstation
Format: Pre-Owned Game
**COMPLETE WITH ORIGINAL CASE AND BOOKLET**
Crash Bandicoot 2: Cortex Strikes Back features 34 brand-new levels and an array of new enemies and environments. Players will journey through space stations, frozen tundra, waterfalls, and mountainous terrain while avoiding deadly boulders and other obstacles. The evil Ripper Roo makes his grand return along with all new baddies, such as Komodo Moe, the enormous Tiny, and one-time Cortex partner N. Brio.

Naughty Dog have also included a "level hub" system where players are given a choice of levels they can complete in any order before moving on. It features some helpful characters as well, such as Coco Bandicoot -- Crash's brainy sister. Using the powers of her computer, she warns the adventurous bandicoot of any upcoming hazards and/or traps.

Thanks to Crash Bandicoot, the world was a seemingly safe place again. Dr. Neo Cortex had been defeated; his body confined to a realm of infinity and terminal velocity. Unfortunately, the mad doctor crash-landed into an unknown world full of mysterious crystals. After running some tests, he deduced that they held tremendous power, but something was severely wrong.

It turns out that the crystals keep the world balanced; but some are missing and will soon cause the planets to align. When this happens, there will be a chaotic flux in the galaxy that will do much more damage than it will good. In an attempt to save the world Dr. Neo Cortex decides to create a Cortex Vortex that will, in theory, prevent this catastrophe from happening.

Surprisingly, he calls upon his arch-nemesis Crash Bandicoot to help him collect 25 crystals for the vortex device. Whether or not this is a carefully hatched scheme to lure the bandicoot in a trap remains to be seen.

Crash Bandicoot 2: Cortex Strikes Back also supports analog controllers and the standard digital pad. A new slide move has also been added to give Crash the ability to quickly destroy opponents on the run without having to stop or lose momentum.
This Is A Pre-Owned Game. Games include game, cover art, and case. Game data from previous use may be present, but can be overwritten or deleted. Bonus downloadable or promotional content may have already been redeemed. Cleaning and repair was done as required.
---
We Also Recommend