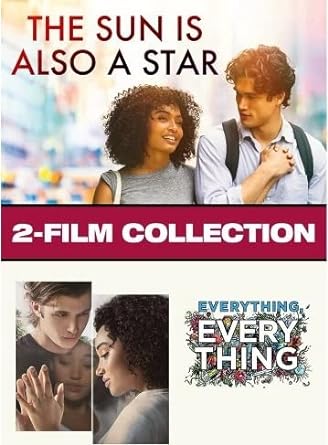 The Sun Is Also a Star / Everything, Everything
DVD
Format: Pre-Owned DVD
The Sun is Also a Star - College-bound romantic Daniel Bae and Jamaica-born pragmatist Natasha Kingsley meet -- and fall for each other -- over one magical day amidst the fervor and flurry of New York City. Sparks immediately fly between these two strangers, who might never have met had fate not given them a little push. With just hours left on the clock in what looks to be her last day in the U.S., Natasha is fighting against her family's deportation just as fiercely as she's fighting her growing feelings for Daniel.
Everything, Everything - Maddy (Amandla Stenberg) is a smart, curious and imaginative 18-year-old who is unable to leave the protection of the hermetically-sealed environment within her house because of an illness. Olly (Nick Robinson) is the boy next door who won't let that stop them from being together. Gazing through windows and talking only through texts, Maddy and Olly form a deep bond that leads them to risk everything to be together, even if it means losing everything.
DVDs & Blu-ray include disc, cover art, and case. Bonus downloadable or promotional content may have already been redeemed. Promotional items (3-D glasses, figurines, t-shirts, posters, jewelry, books or other non-media items) may not be included. Cleaning and repair was done as required.
---
We Also Recommend