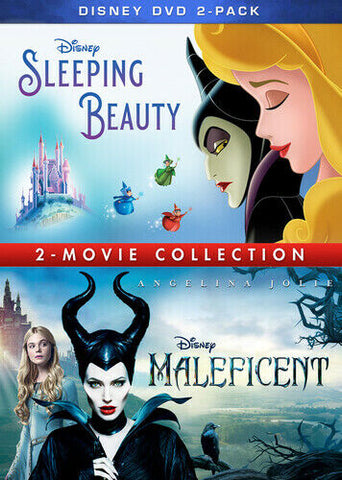 Sleeping Beauty/Maleficent
DVD
Format: Pre-Owned DVD
Sleeping Beauty - Filled with jealousy, the evil witch Maleficent (Eleanor Audley) curses Princess Aurora (Mary Costa) to die on her 16th birthday. Thanks to Aurora's guardian fairies (Verna Felton, Barbara Jo Allen, Barbara Luddy), she only falls into a deep sleep that can be ended with a kiss from her betrothed, Prince Phillip (Bill Shirley). To prevent Phillip from rescuing Aurora, Maleficent kidnaps and imprisons him. The good fairies are the last hope to free Phillip so that he can awaken Aurora.
Maleficent - As a beautiful young woman of pure heart, Maleficent (Angelina Jolie) has an idyllic life in a forest kingdom. When an invading army threatens the land, Maleficent rises up to become its fiercest protector. However, a terrible betrayal hardens her heart and twists her into a creature bent on revenge. She engages in an epic battle with the invading king's successor, then curses his newborn daughter, Aurora -- realizing only later that the child holds the key to peace in the kingdom.
DVDs & Blu-ray include disc, cover art, and case. Bonus downloadable or promotional content may have already been redeemed. Promotional items (3-D glasses, figurines, t-shirts, posters, jewelry, books or other non-media items) may not be included. Cleaning and repair was done as required.
---
We Also Recommend