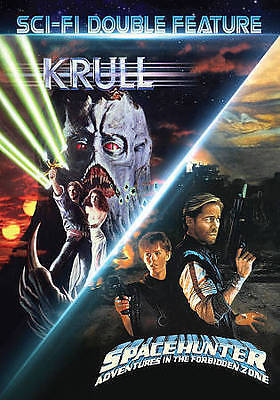 Krull/Spacehunter: Adventures in the Forbidden Zone
DVD
Format: Pre-Owned DVD
Krull - On the planet of Krull, an evil creature called the Beast decimates the world's army and kidnaps the lovely Princess Lyssa (Lysette Anthony), who is destined to become queen. Her brave beau, Prince Colwyn (Ken Marshall), leads a motley band of warriors, including Ergo (David Battley) and Kegan (Liam Neeson), to rescue his beloved. However, before he can face the Beast, Colwyn must locate a mystical weapon known as the Glaive, which he can use to slay the hideous villain.

Spacehunter: Adventures in the Forbidden Zone - A crash-landed salvager (Peter Strauss) meets a waif (Molly Ringwald) and saves women from a cyborg (Michael Ironside) on Terra 11.
DVDs & Blu-ray include disc, cover art, and case. Bonus downloadable or promotional content may have already been redeemed. Promotional items (3-D glasses, figurines, t-shirts, posters, jewelry, books or other non-media items) may not be included. Cleaning and repair was done as required.
---
We Also Recommend